The candle factory Cereria Terenzi, born 40 years ago, is one of today's corporate realities that perfectly unites research, tradition, innovation and artisans' savoir-faire. The portrait of a truly "illuminated" entrepreneur: Paolo Terenzi.

Mr. Terenzi, how did you start?
First my grandfather, then my father and now me: for three generations, we have been making candles invented with the sole purpose of transmitting "beauty", through excellence, which is the final goal of our products. My grandfather was the one who had the truly brilliant idea of creating candles that could also be used on foodstuffs, and so would not be toxic in the least: his first workshop was no bigger than six square metres. Then, remaining faithful to the principle of production of the highest quality, and continuing to renovate, we have succeeded in getting bigger: first with my father, and now with me.
So your training took place directly in the firm?
I was able to start both from the point of view of the business as well as the craftsman's part: I think it is important to know how to make the products to then be successful in selling them.
And besides being beautiful, our candles do not contain toxic substances, and customers who are careful about quality seek us out.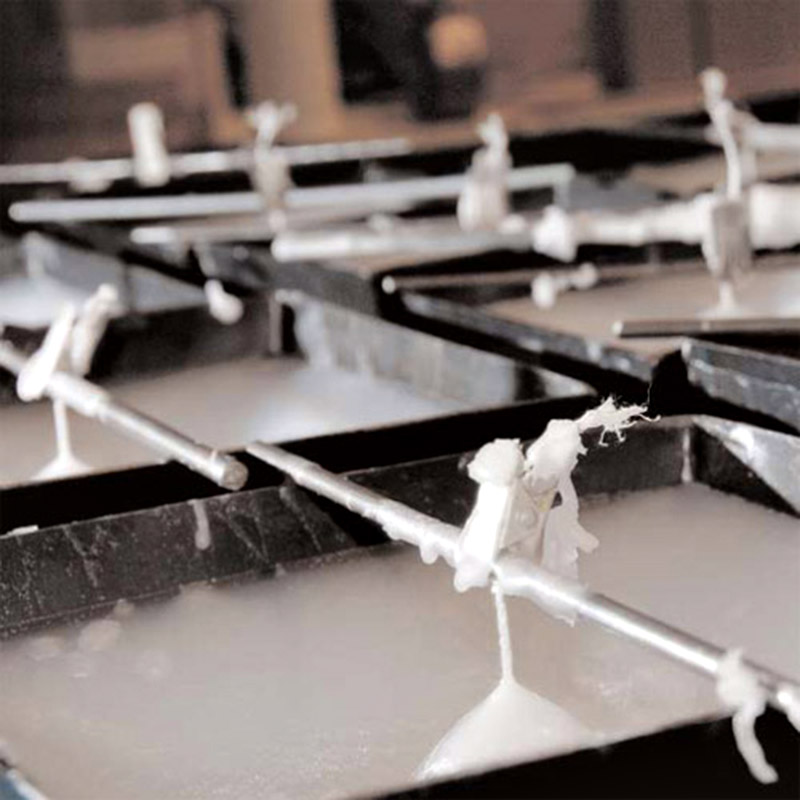 In production, do you use new forms of technology?
We use various production techniques, from machines with numeric controls for the most complicated creations to ancient techniques to make more artistic products. What is fundamental for us is the very high quality that we want and that we must succeed in maintaining: today we make candles that do not pollute the air while they burn, and that are absolutely at zero impact in production.
What are the prospects for artisans' products within the globalised market?
There are many opportunities, and this is also because, with our systems of production, our quality and the strictness of our controls, we have succeeded in becoming a point of reference as a firm. And besides being beautiful, our candles do not contain toxic substances, and customers who are careful about quality seek us out.
Have you developed a special link with the territory?
Let's say that, on the one hand, the territory furnishes us with the excellence of artisans' work (and we have chosen to keep strictly women workers), and on the other, the support for the construction of specific machines created by craftsmen in the area.
Why is it that you have chosen to use mainly women workers?
On the one hand, it was a choice that was almost forced upon us, given the attention to details necessary in our creations: women are always more careful about details.
Besides the production of candles, what other types of activities is your firm concerned with?
We have one part dedicated to quality control, another that is concerned with research, even if we often use outside laboratories. Our candle for massages, for example, was born in the lab by mistake: we were doing research to bind different materials together, but we had problems during the fusion. So we decided to use the situation to our advantage, by adding natural oils and precious essences, and so created a completely new natural cosmetics product that exploits the combustion of the candle.