Accolades continue to arrive for Franco Cologni, the president of the Cologni Foundation for the Métiers d'Art. The quality of his entrepreneurship, leadership skills and intense involvement in the world of luxury goods and high craftsmanship make him worthy of distinction indeed. Over his lengthy career as a manager and a man of culture, Mr Cologni has received numerous prestigious awards and titles, including Cavaliere del Lavoro of the Italian Republic, Chevalier of the National Order of Merit in France, and Commandeur of the Order of Arts and Letters in France.
On 23 November 2017 in Paris, the Union Française de Bijouterie, Joaillerie, Orfèvrerie, des Pierres et des Perles (UFBJOP) honoured Mr Cologni with a medal of merit. The UFBJOP, which represents French excellence by uniting this sector's decision makers and professionals, conferred the medal in recognition of the huge contribution Mr Cologni has given to the French jewellery sector, elevating it to its highest level yet. Unable to receive the coveted award in person, Mr Cologni asked his friend and colleague Jacques Rey to accept it in his name during the gala reception held at the Haute École de Joaillerie, 58 Rue du Louvre.
On 6 December 2017 in Rome, the goldsmiths' guild "Nobil Collegio degli Orefici Gioiellieri Argentieri dell'Alma città di Roma" gathered at the Sant'Eligio degli Orefici church to confer the guild's "Università degli Orafi" prize, an honour reserved for persons of merit in the spheres of culture, entrepreneurship and knowledge. The prize, instituted in 1989, is an important recognition of cultural and civil commitment. It honours individuals who have contributed to enhancing the status of Italy's artistic heritage. Past recipients include a teacher at The Warburg Institute, the chief restorer at the Vatican Museums, and scholars and superintendents of cultural heritage.
The 2017 "Università degli Orafi" was awarded to Franco Cologni for creating and promoting initiatives through the Cologni Foundation for the Métiers d'Art aimed at preserving the artisanal skills of high craftsmanship, for his particular attention for training new generations, and for being a commendable example of devotion to artistic craftsmanship in all its expressions.
The prize was accepted on his behalf by the Honourable Mariapia Garavaglia, his longstanding friend and a board member of the Cologni Foundation.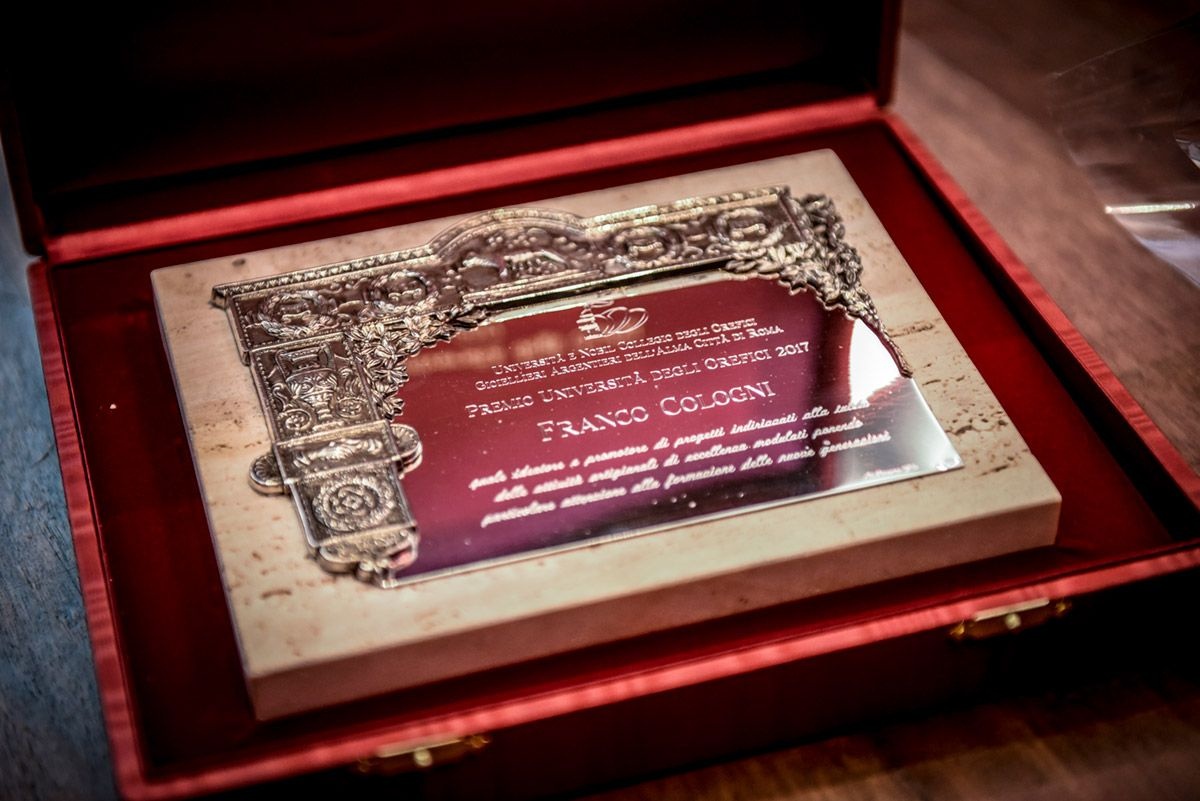 "Premio Università degli Orefici 2017", particolar.
The Camerlengo Corrado di Giacomo, in the Sant'Eligio Church in Rome, delivery the prize to Mariapia Garavaglia
Madame Bernadette Pinet – Cuoq delivery the medal to Jacques Rey


Jacques Rey during the speech on the night ceremony in the les Écoles BJOP